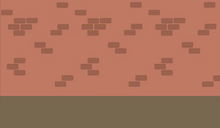 World 1-2 is a DLC stage in All Star Smashers. It is based off of the underground stages of Super Mario Bros, but it looks almost nothing like them.
Music
Starter Songs
Super Mario Bros: Underground Theme
Super Mario 64: Hazy Maze Cave
Super Mario Sunshine: Secret Course
Unlockable Songs
Mario and Sonic at the London 2012 Olympic Games: Coincentration- Play on this course 25 times.
Super Mario RPG: Bowser Battle- Play on this course 50 times
Results Background