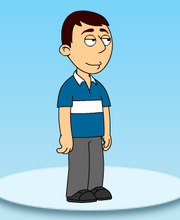 Warren James Cook, or better known as simply Warren Cook, is a bad user from Goanimate and YouTube, who has been subjected to more grounded videos than any other GoAnimate user. He only appears as a non-playable character in Story Mode:
The Stretch Squad
, alongside
Memy9909
.
Role in The Stretch Squad
Edit
Warren first appears in Road to Train Station, where it is revealed that he and Memy are working for Matthew Whitehead.
Ad blocker interference detected!
Wikia is a free-to-use site that makes money from advertising. We have a modified experience for viewers using ad blockers

Wikia is not accessible if you've made further modifications. Remove the custom ad blocker rule(s) and the page will load as expected.