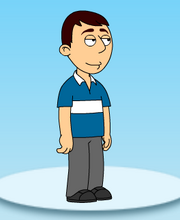 Warren James Cook, or better known as simply Warren Cook, is a bad user from Goanimate and YouTube, who has been subjected to more grounded videos than any other GoAnimate user. He only appears as a non-playable character in Story Mode:
The Stretch Squad
, alongside
Memy9909
.
Role in The Stretch Squad
Warren first appears in Road to Train Station, where it is revealed that he and Memy are working for Matthew Whitehead.