Almost every video game can't exist without playable characters and All Star Smashers is no exception. Here is a list of confirmed playable characters for All Star Smashers: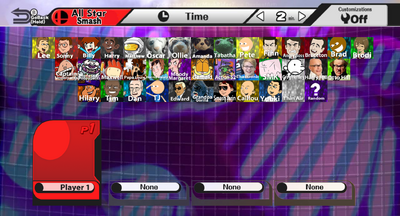 Limited Era
Edit
Business Era
Edit
Attention Era
Edit
Invasion Era
Edit
Caillou (Caillou gets Grounded)
Action 52 (NES Version)
Finn Palmer (Pete the Cheerful Bus Driver)
Upcoming Characters
Edit
Pawlette Swap Characters
Edit
Elouise Pitman (Harry's Island)
Possible Playable Characters
Edit
Rarity (My Little Pony: Friendship Is Magic)
Character Select Music
Edit
Starter Songs
Edit
The Harry Hill Movie Menu Theme
Unlockable Songs
Edit
Who is your favourite All Star Smashers character?

 

Edit
Ad blocker interference detected!
Wikia is a free-to-use site that makes money from advertising. We have a modified experience for viewers using ad blockers

Wikia is not accessible if you've made further modifications. Remove the custom ad blocker rule(s) and the page will load as expected.