Almost every video game can't exist without playable characters and All Star Smashers is no exception. Here is a list of confirmed playable characters for All Star Smashers: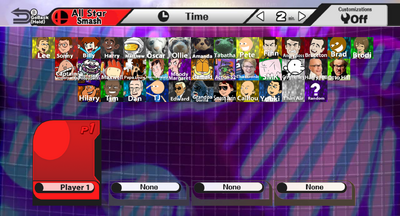 Limited Era
Business Era
MimeFan (MimeFan2017) *DLC*
Talking Joe (Represents Nessy Learning Programme) *DLC*
Hilary (Strongman Hilary) *DLC*
Edward Yui (Represents Hong Kong) *DLC*
Attention Era
Invasion Era
Go!Caillou (Caillou gets Grounded) *DLC*
Action 52 (NES Version)
Finn Palmer (Pete the Cheerful Bus Driver) *DLC*
HTML Era
Upcoming Characters
Seperation Era
Pawlette Swap Characters
Elouise Pitman (Harry's Island) *DLC*
Character Select Music
Starter Songs
The Harry Hill Movie Menu Theme
Unlockable Songs
Who is your favourite All Star Smashers character?

 
Ad blocker interference detected!
Wikia is a free-to-use site that makes money from advertising. We have a modified experience for viewers using ad blockers

Wikia is not accessible if you've made further modifications. Remove the custom ad blocker rule(s) and the page will load as expected.