Harry's Island

Some attributes

First
Universe:

Harry's Island

Second
Unknown
Third
Unknown

Other attributes
Harry's Island is a stage in All Star Smashers.
Starter Songs
Edit
Broadcast News
Ambient- Peaceful
Clap Tap
Dance
Kamek Scheme
Unlockable
Edit
Spliced Theme Song- Win a Kruel KO on the left side of this stage.
Donkey Kong Country 2 Soundtrack: Bramble Blast- Win a Kruel KO on the right side of this stage.
Club Jazz- complete Classic Safari as Harry Bradshaw
Results Background
Edit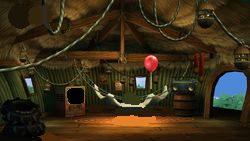 Ad blocker interference detected!
Wikia is a free-to-use site that makes money from advertising. We have a modified experience for viewers using ad blockers

Wikia is not accessible if you've made further modifications. Remove the custom ad blocker rule(s) and the page will load as expected.