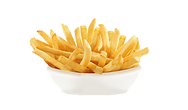 French Fry Is a voice used in GoAnimate. He appears in All Star Smashers as an unlockable Narrator.
How to unlock- Complete Classic Safari as Papa Louie.
Quotes
Roster Start
"Let's-a go!"
Character Readings
Classic Safari Quotes
Battle Intros-
Battle Outros- 
Trivia
Since he doesn't have a known appearance, French Fry's look in All Star Smashers is literally French Fries.
Ad blocker interference detected!
Wikia is a free-to-use site that makes money from advertising. We have a modified experience for viewers using ad blockers

Wikia is not accessible if you've made further modifications. Remove the custom ad blocker rule(s) and the page will load as expected.