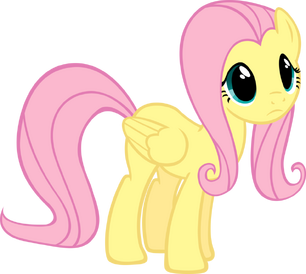 Fluttershy is one of the main characters of My Little Pony: Friendship Is Magic. She appears in All Star Smashers as a non-playable assist character in Sonny Slaven's moveset. She can be summoned using Sonny's Up-B move, which enables him to ride on his favorite pony. due to beimg shy, she can only perform 3 small hops. She is also able to quietly cheer "Yay!" which sends both her and Sonny backwards. (Sonny is able to save himself by jumping off) Sonny is also able to summon Fluttershy as a grab attack.
Fluttershy also appears in Angry Boss Codecs as one of the workers who talks to Angry Boss about his opponent. (Yes, Fluttershy DOES work for Angry Boss in the SSP universe, and is the only employee AB never yells at) She has so far appeared in the codecs of Sonny Slaven, Amanda the Panda, Maxwell, Bruceton and Grandpa Gorilla.
Despite not being playable in All Star Smashers, Fluttershy is playable in Smash Bros Lawl X.
Ad blocker interference detected!
Wikia is a free-to-use site that makes money from advertising. We have a modified experience for viewers using ad blockers

Wikia is not accessible if you've made further modifications. Remove the custom ad blocker rule(s) and the page will load as expected.