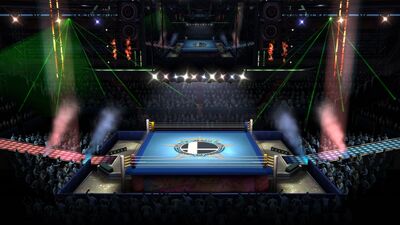 The Boxing Ring is a stage used by Little Mac in Super Smash Bros for the Wii U and 3ds. Here in All Star Smashers, it is the bonus stage in Classic Safari mode.
Starter Songs
Edit
"You've got to fight for what you want."
Super Smash Bros Melee- Break the Targets!
Unlockable Songs
Edit
Classic Safari
Edit
As mentioned above, the Boxing Ring is the bonus stage in All Star Smashers. It is shown only during the bonus fight against The Fat Sandbag.
Boxing Ring Aliases
Edit
Lee Saunderson - Looney Loonatic
Sonny Slaven - The Tangent Grub
Brad Till - Captain Till the Elevator Master
Matthew Whitehead - Space Invader
Harry Bradshaw - President of the Old Toys
Brodi Welsford - Hyrule Fangirl
Amanda the Panda - Cute-Fu Panda
Oscar the White Tiger - Chubby Cubby
Smash Jarin - The Eliminator
Talking Joe - The Bus Kid
Pete the Cheerful Bus Driver - The Cheerful Bus Driving Charm
Hilary - Strongman, Deliveryman
Edward - Plugger Partner
Captain Underpants - The Waistband Warrior
Maxwell - Deviant Artist
Papa Louie - Kiss The Cook
Horrid Henry - Our Horrid Boy
Garfield - The Fat Feline
Yuuki Ogata - Who Cares?
Caillou - The Icon of Grounded Videos
Action 52 - Glitchy Gamer
Finn Palmer - The Grump Who Looks Like Not So Grump
Chadtronic - Hyper Reactor
Billy Slaven - Lover of Memes
Thin Air- The Very Air We All Breathe
Tim Carter - The Educator
Angry Boss - The Angriest Boss You've Ever Heard
Bruceton - Trollord of the Workforce
Dan Gough - Dincent Dan The Science Man
Grandpa Gorilla - Grandpa of the Gorillas
Elouise Pitman - Shark Shanker
Super Minecraft Kid - Cringe Prince
Greg Heffley - The Wimpy Kid
Harry Hill - Always The Joker
Professor Poopypants - A Brilliant Mind
Moody Margaret - Our Moody Girl
Otto Hill - An Evil Twin
Tabatha the Tortoise -
Ollie the Snow Leopard -
Rarity - Element of Generosity
Ad blocker interference detected!
Wikia is a free-to-use site that makes money from advertising. We have a modified experience for viewers using ad blockers

Wikia is not accessible if you've made further modifications. Remove the custom ad blocker rule(s) and the page will load as expected.