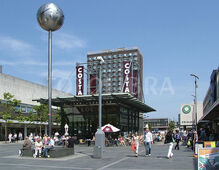 Basildon Town Centre is a stage in All Star Smashers.
Starter Songs
Edit
WWE Adam Rose Theme - Break Away
Michael Bay's Rap Beat [Steven Spielberg vs Alfred Hitchcock - ERB Season 4
Em-One and Answered - How Do I Life? (Game Grumps)
Unlockable Songs
Edit
"Weird Al" Yankovic - Eat It- Win on this stage 10 times
Andrew WK - Party Hard- Win on this stage 20 times
Bouncing Souls - Ole- Win on this stage 30 times
Paula Abdul - Opposites Attract (Ft. MC Skat)- Win 3 team battles as Sonny and Billy
"Weird Al" Yankovic - Dare To Be Stupid- Defeat Lee Saunderson, Sonny Slaven and Brad Till in a 4-player smash as Billy Slaven
Out in the Street by Cheap Trick - That 70's Show Theme Song- Complete the At the End of the Road level in The Stretch Squad
WWF Rockabilly Theme- Use Billy's Up-B 100 times over the course of the game.
Results Background
Edit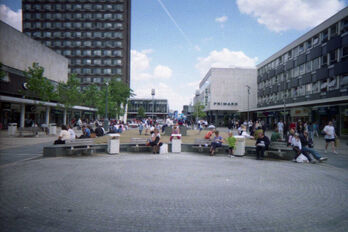 Ad blocker interference detected!
Wikia is a free-to-use site that makes money from advertising. We have a modified experience for viewers using ad blockers

Wikia is not accessible if you've made further modifications. Remove the custom ad blocker rule(s) and the page will load as expected.